Accounts created before Nov. 1st, 2021
Accounts created before November 1, 2021 have to include /v7/ in the path, like shown below.
//token.cloudimg.io/v7/original_image_url?operations&filters
Accounts created on or after November 1, 2021 do not require /v7/ and documentation have been updated accordingly.
To verify the type of configuration on your Cloudimage account, log in to your Cloudimage admin panel and look at the syntax provided on the Welcome page.
[NOTE] If you are an existing Cloudimage customer and wish to be able to remove the v7 from your URL syntax, please contact our support.
Image performance checker tool
Cloudimage not only saves you time by resizing and optimising all your images, but it also accelerates your website by caching your optimised images in a worldwide Content Delivery Network. Our Perfchecker tool will give you a glimpse of Cloudimage's benefits on your websites and apps.
How does it work?
You can access the CDN Distribution Performance Report at https://www.cloudimage.io/benefits or from the Cloudimage homepage. Enter a URL of an image and your image will be loaded several times from multiple nodes distributed across the world, and the average loading time for every node will be computed.
After that, the nodes will calculate the average loading time for the same image optimised by Cloudimage. For example, if the original image URL is http://sample.li/boat.jpg, the Cloudimage-optimised image will be downloaded from the CDN.
The Image Optimisation Performance Report will analyse your website content loading speed and compare the results before & after implementing Cloudimage. Measurement are performed twice: once for mobile and once for desktop.
Perfchecker offers two performance reports. The first one takes into account image resizing and compression of your images using Cloudimage and the second one estimates the performance of your site using Cloudimage CDN delivery.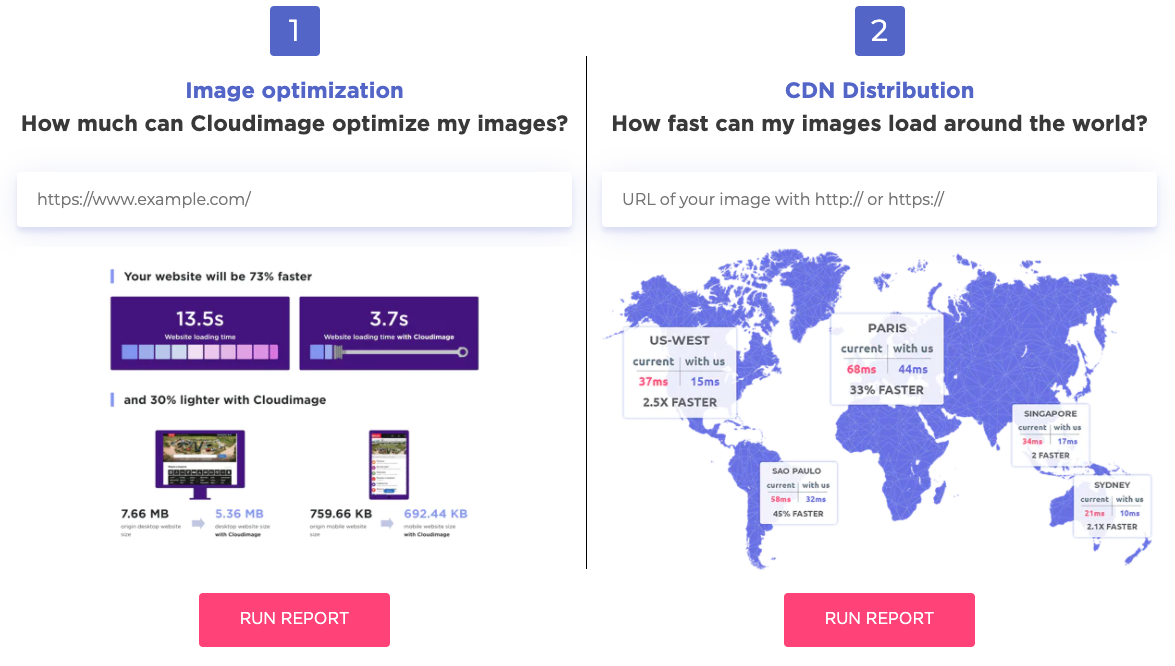 ---
Where are our nodes located?
We currently have nodes at following locations and are expanding these weekly:
Paris (France)
London (UK)
Frankfurt (Germany)
Oregon (US West Coast)
Singapore
Virginia (US East Coast)
Sao Paulo ((Brazil)
Sydney (Australia)
How do we build your custom report?
If you want to receive a (free) report on your website, please fill in your contact information. Our algorithm will find a page on your website containing many images and run an extensive test comparing the page loading time with and without Cloudimage.
The resulting report will be sent to the email address you provide.
Any feedback?
Perfchecker is in constant evolution. If you'd like to suggest an improvement, feel free to contact us.